Transforming business with a unique blend of creativity and intelligence - Part 1
15/02/2023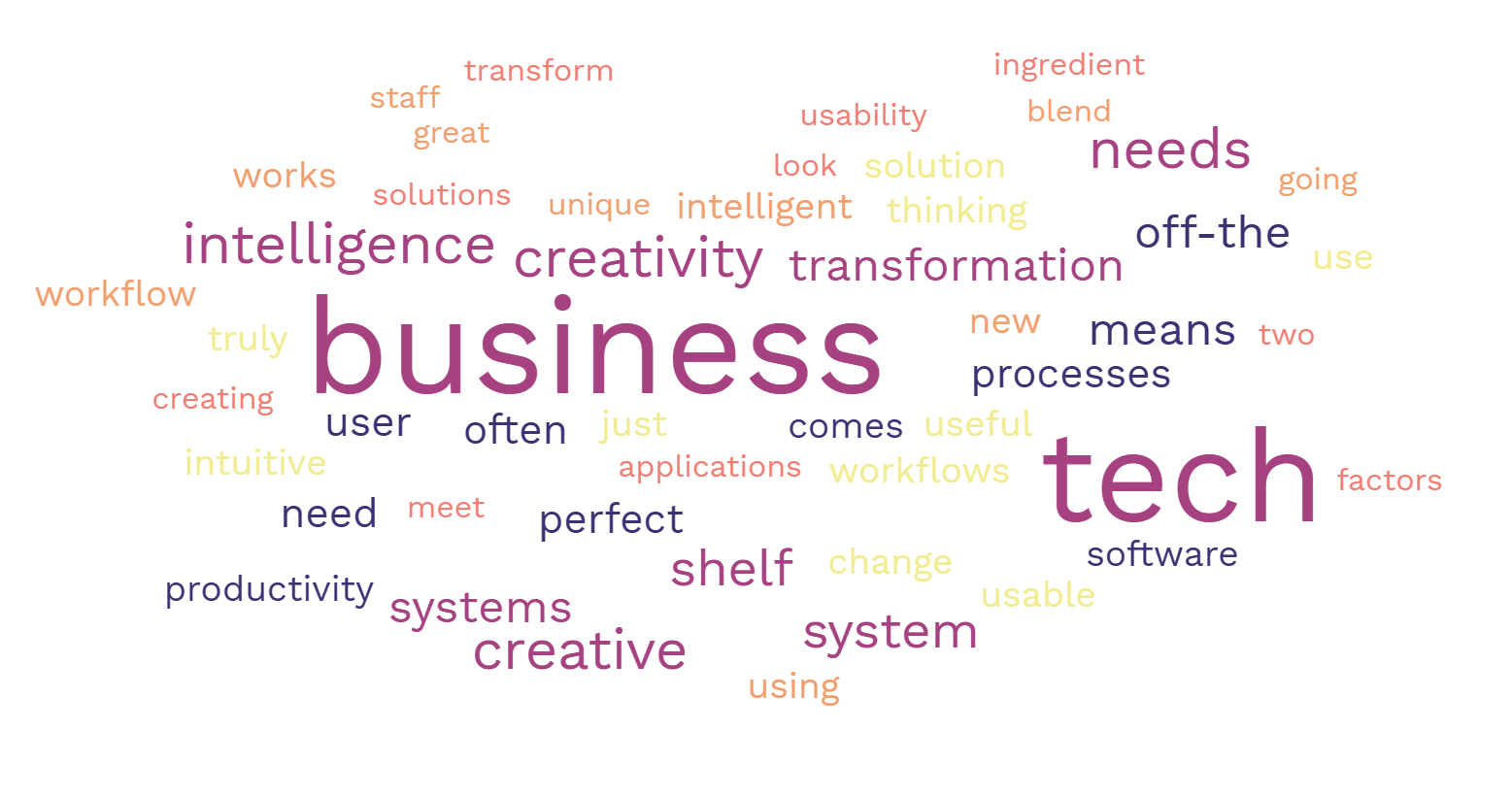 Is your dawdling tech or lack of tech slowing your business down with it? Here's our secret formula for truly transformative tech, thanks to creative, intelligent solutions.
Transforming business with a unique blend of creativity and intelligence
When it comes to business transformation, a quick software subscription or refresh simply isn't going to cut it. A true business transformation not only revolutionises your business but also your business outcomes and the productivity of your staff. Great transformation opens doors and drives positive change.
But what do you need to achieve a successful transformation? It turns out the secret formula is just two ingredients: intelligence and creativity. Together, these factors transform your business with useful, innovative applications that power your business forward.
The perfect blend of usefulness and usability
For your systems to be truly powerful, they need to be both useful and usable. Let's take a moment to look at each of these key factors:
Useful means it does exactly what your business needs. That's where the intelligence ingredient comes in. Chances are, the perfect set-up means thinking more widely than single and often disparate software applications lifted straight off the shelf.
Creating the perfect system takes expert knowledge of how solutions can help your business meet and even exceed its goals.
Usable means it enables your business to use its capabilities in an intuitive manner, following your unique business workflows and guiding staff and users optimally. Here's the creativity ingredient - if your system isn't user friendly, it's not going to deliver what your business needs, and worse still, it could even hold you back from making progress and achieving growth potential.
A creative approach to system and solution design means thinking outside of the box and creating a system that actually works for your context.
Intelligent tech? It's time to shelve the off-the-shelf
When it comes to off-the-shelf systems, these often seem like an intelligent solution. After all, this kind of tech is well tested and, theoretically, designed around a great user experience.
One of the problems lies in using off-the-shelf systems alongside your existing tech, especially when the integration doesn't quite fit the way you like or envisioned – this can diminish the ease of use of your new tech addition. And whilst there's a degree of customisation available, the core framework of your new tech can't be amended, meaning you're bound to its inherent limitations, which as times and business needs change, you will most likely encounter. This means the system may not grow and adapt to your growing business and likely constrain the business due to bottlenecks and convoluted processing.
Plus, off-the-shelf systems aren't designed for your specific business workflow, but rather a general workflow that's aimed at a variety of businesses, so, although you try to customise the system, you often end up changing the way your business runs, just to suit the software. It's also unlikely to be everything you hoped (or everything the marketing campaign promised, as people often learn after they've started using it
And without a natural alignment to your processes, you're faced with another dilemma. Do you change your internal processes, or start the search for the perfect tech all over again?
For truly transformational tech, you need the intelligence of highly functional tech, that's then attuned to your needs with the creativity to ensure complete accessibility.
But how can tech be creative?
Creative tech isn't just about using tech in new ways. It's about taking existing tech and making it usable.
Well-designed systems are intuitive, taking the user through each process step by step. The benefit? A huge reduction in training needs and user frustration, plus increased workflow productivity.
But intuitive tech needs creativity. After all, no two businesses undertake their processes in the same way. How does your business see its workflows? Creative tech adapts usability to fit in with the muscle-memory of your business's thinking.
Truly tailored tech combines intelligence and creativity
Creative Intelligence works with clients to tailor-make their tech. We get to know your tech and business stresses and craft an intelligent and creative solution to meet your needs. And because your business is at the heart of what we do, we keep you involved in the architecture of your tech, so you know how and why your tech works for you.
The result? Crystal clear processes which streamline your workflows, working intuitively and in tune with your business and boost productivity.
And the icing on the cake? It can also reduce costs in comparison to off-the-shelf solutions, by providing only the tech you really need without the bloated irrelevant functionality that you won't use – but still get charged for!.
In fact, creativity and intelligence offer so much to transformational tech, we've made it our name.
Ready to find out more about how to transform your tech business? Take a look at 3 creative steps to business transformation.