Transforming business with a unique blend of creativity and intelligence - Part 2
24/02/2023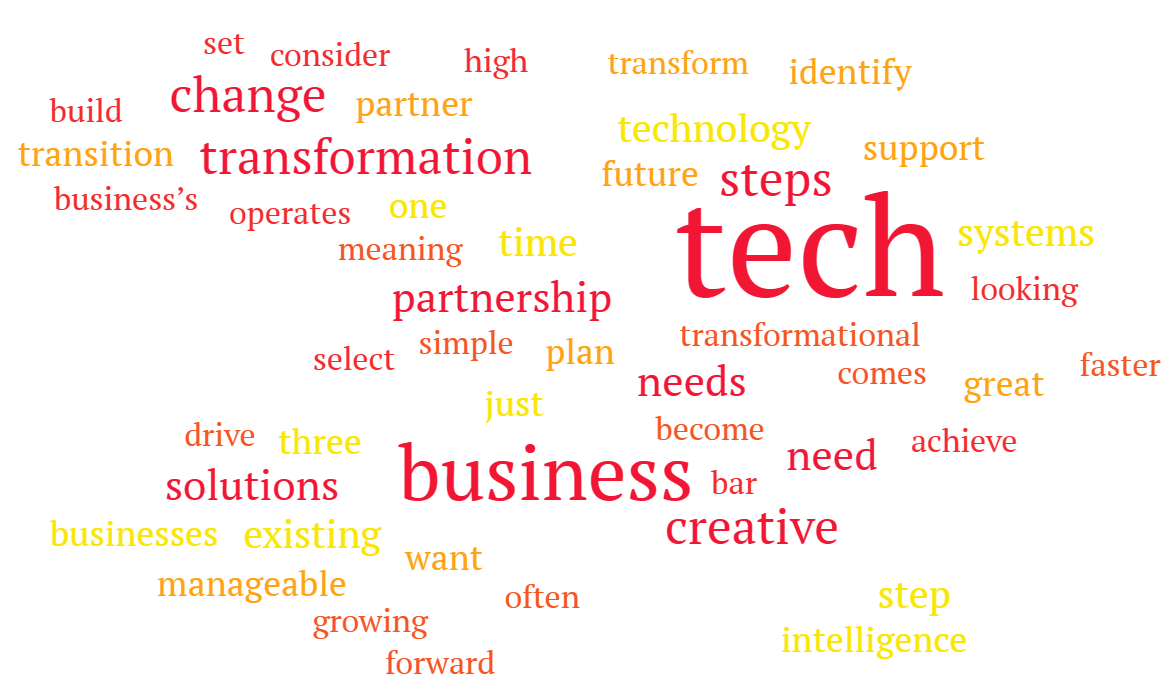 Ready to transform your business? Using three creative steps, our highly adaptable, intelligent solutions to reduce your costs and increase your profit and productivity
3 creative steps to transform business with transformational tech
When it comes to successful businesses, it's no surprise to see the tech giants up there. Recent arrivals to the business world, yet many have overtaken traditional businesses that lay at the top of the corporate tower for many decades. It's just one indicator of the power of tech.
Organisations that embrace tech become dynamic, often growing faster than their competition, meaning they are more readily able to adapt to change. But at Creative Intelligence, we believe your tech can go further.
Here's our three simple steps that enable you to not only respond to change, but actually invoke the change you need to drive your business forward.
It starts with a question
Before we get to our three simple steps, it's time to consider your current set-up. Are you questioning the way your business operates? What is it about your business that has become inherent, habitual and accepted? Why not re-evaluate these elements?
This is where creativity comes in. Transformation isn't just about changing what is already done. It's about looking two, three or more steps ahead. These are the steps that your business will need to master in order to survive and thrive. What do you see in your business's future?
Step 1: Identify the change you want to see
Before you can select or build your tech systems, you need to set a high bar for what your tech needs to achieve. If your tech isn't transformational, chances are it's not going to be a great investment of your time and money.
Consider these questions:
What are your tech systems currently doing for you?
Are your tech systems allowing for growth, flexibility and transformation?
Are you getting great value from your existing tech systems?
A real tech investment changes the way your business operates for the better and for the future. That's why at Creative Intelligence, we set the tech bar high, so that your solutions work and grow alongside you. We often shatter the ceiling of what you think is possible and then you start to realise what you're missing out on – true business transformation should be exciting.
Step 2: Regularly review your technology plan
Transformation can be an overwhelming phrase. And indeed, some tech transformations are on a truly epic scale.
But in most cases, transforming your tech is a large process which can be broken down into manageable steps, meaning minimised disruption (and manageable tech stress levels!).
That's why you need a technology plan. Start with a wish list - what do you really want your business's tech to achieve? From here, you can explore how technologies can be implemented in stages to realise this change.
We recommend reviewing your technology plan annually. By coming back to your goals, you can see how far your tech has come and identify the next priority for further transforming your business with tech.
It's also key to select a tech partner to support you through the planning process, particularly one that understands business as well as the tech possibilities, alongside implementing the tech changes that are going to drive your business forward. Reliable, flexible tech partnerships are invaluable, not least because, as with any growing business, your priorities will likely change.
Step 3: Make it a reality!
You've analysed your needs - now it's time to implement your desired tech solution to deliver your transformation. Selecting the right tech partner to support you through this is critical. You don't want a partnership which simply resells an off-the-shelf package – that's not really a partnership, it's more like a one-off date - but rather a partnership with the insight to truly meet your tech needs and who will guide you through the transition and continue supporting you beyond – a partner who treats you like a valued business, not just as another subscriber.
A great tech partnership will design and build bespoke tech solutions and ensure seamless integration into your existing tech, assuming it's still needed or worth keeping. With careful thought given to the transition to new tech solutions, you'll be assured a thoughtfully managed transfer of your existing data.
The result? Minimised disruption with a gradual transition, faster realisation of benefits – or RoI - and increased productivity and profit margins. It's also worth looking for a partnership that can offer the ongoing support and maintenance your tech solutions need.
Creative tech transformations, one step at a time
Technology is at the forefront of innovation and change, both in itself and in providing the tools for businesses like yours to turn their own vision into a reality.
At Creative Intelligence, we understand that the magnitude of a business transformation can seem overwhelming. With our insight to help you both identify your existing needs and anticipate your future needs and opportunities, we'll help you break down your transformation into manageable, creative steps.
Get in touch to discuss how our expert team can transform your business with creative and smarter tech solutions.