How to keep your business up to speed in an ever-changing world
28/03/2023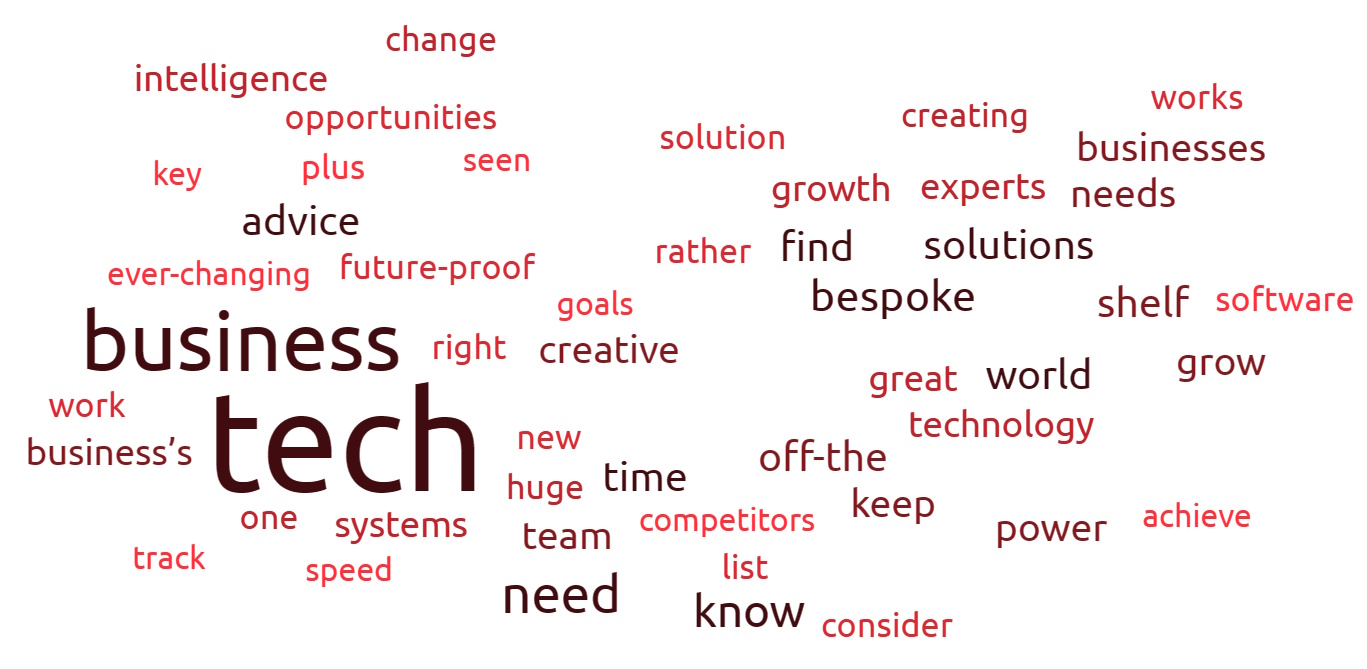 In an ever-changing world, keeping your business up to speed is critical. Here we investigate how the power of tech can keep your business's goals on track.
How to keep your business up to speed in an ever-changing world
The world is always changing, and the pace of advancement seems faster than ever. Technology has played a huge role in the adaptations we've seen in recent decades.
With the expectation of being able to communicate whenever and wherever we desire, the landline phones of the early 2000s now seem a distant memory. More recently, businesses are contending with a growing cashless society and competing with their competitors digitally.
So what does this mean for business owners? In this blog, we explore how to embrace the challenge of change and keep up with your competition to achieve your business goals.
At Creative Intelligence, we know great tech is the key to business success. By asking yourself how tech can empower your business on a regular basis, you slide away from the ordinary and into opportunity.
And in proactively creating change, you're already one step ahead of your competitors - a leader, not a follower.
By asking if there's a better way and thinking disruptively about your business tech, you address your business's challenges head on, before they appear.
1. Harness the power of expert advice
The world of tech is vast. How do you know what's going to work for your business?
There are two options. Either you need to do your research (which we all know is no quick task), or you need to find a team with the experience and expertise to provide your business with the best guidance.
We're happy to take advice on other matters - like having an accountant advise on your commercial finances, or a business coach to help guide and grow your new project. Why would tech be any different? A great tech consultant can ensure your business has the right technology to meet your needs today and grow with you for tomorrow.
And our first word of advice? Tech suppliers have a vested interest in their products. They'll happily advise you on what you can achieve with their tech or demo their solutions. It's helpful - but is it the best advice?
Aligning yourself with independent tech experts who can think creatively and intelligently about your business is key. That unbiased, objective opinion can make the difference between experiencing the usual tech frustrations of wasted time and funds, versus finding the tech solution that truly works for your business.
And at Creative Intelligence, our team of tech experts do just that. No commission, no brand loyalties - just honest, helpful advice. So rather than forcing the square peg of your business into the round hole of off-the-shelf solutions, we'll carefully carve out the technological solutions your business needs to transform and thrive.
Define your tech shopping list
Now you've got the right team to provide you with advice and guidance, it's time to consider the tech you need to put it into action.
And like most businesses, the tech world wants you to browse its products like you would the supermarket aisles. But why?
Like going to the supermarket, you'll arrive with a list of what you need. But as you peruse the aisles, there's offers and new items that you hadn't considered. You're immediately exploited by upselling (especially in the biscuit aisle, we find).
In looking for off-the-shelf tech, you're exploited in the same way. You go in hunt of one tech product, and end the day having paid out for a bunch of tech solutions you don't need, and didn't even know existed.
And when you try to implement this tech, it may not work the way you expected or fit with your existing framework. All with a big impact on your tech budget and precious time.
So what's really on your tech shopping list? What does your business need from its tech systems? Can you find a ready-made tech solution that works, or do you need to find your tech advancements elsewhere?
Future-proof for tomorrow's markets
We know that price is a huge factor in choosing your tech. Yet time and again we've seen people take the cheaper option, only to find themselves frustrated that their tech soon needs a rethink.
Consider that you need your team to keep in touch. You could buy the lowest price, off-the-shelf mobile phone for each employee. They've all got buttons and a screen. They can all make a call or send a text. But it's yesterday's tech.
So when you can't share images, send a voice note, identify your colleague's location, or research nearby sales opportunities online, that cheap-but-does-the-job mobile phone turns out to be a poor investment.
You may have saved on tech capital, but you now need to spend that cash (and more) on your team's time. Plus, there's the cost of missed opportunities to grow your business. That's why in times of increasing change, ensuring your tech is both flexible and future-proof is vital.
So when you look for new tech, think beyond the simple question of: is this better than what I currently have? Instead ask: What's the longevity of your tech choices? And how can it adapt with your business as it grows?
Bespoke tech to streamline your success
As tech experts, we hear one common misconception a lot that bespoke technology systems are far too expensive.
In fact, we regularly come across businesses that will only consider off-the-shelf tech.
Why is this such a huge misconception? Because with an off-the-shelf system, you often end up paying for features and functionality that you don't need, use or want.
Plus, you have to work your business around the software, rather than creating tech that works around your business. That means you spend time plugging the shortfalls and finding workarounds that are clunky and time-consuming. And expensive.
Bespoke business software does everything your business needs. Nothing more, nothing less.
Plus, bespoke tech offers the opportunity to break your tech lease. No more renting someone else's tech ideas and paying for them year after year.
In creating the tech system you need from the outset, you get the perfect solution at an upfront cost that sees your business through years of increased growth. It's your investment for the future that feels truly yours from the moment you power up.
And yes, you can even paint the walls (though in the tech world, we call it "choosing a colour theme").
At Creative Intelligence, we've got the experience to know that most businesses don't grow rapidly thanks to off-the-shelf systems. Yet we regularly see the impressive growth acceleration that comes with the type of bespoke tech software systems we deploy for clients, especially those that harness the power of disruptive tech.
That's why we're happy to promote the possibilities and opportunities integral in using bespoke tech.
Bespoke, future-proof tech - with no costly, unnecessary extras
Here at Creative Intelligence, we know the power of great technology. We see businesses thrive and grow through utilising the right tech, rather than big-name tech.
That's why we get to know your business: so we can craft intelligent, creative solutions to keep your business's progress and transformation on track.
The result? Cost-effective tech solutions that streamline your efficiency and accelerate your growth.
Ready to find out more about how great tech can take your business's growth to the next level? Get in touch to discuss your needs with our team of experts.